A Fats, Oils, and Grease resolution plan, with grease management tools and an educational website for the City of Lansing. 
Citizen Interaction Design Internship 
Role: Project Manager, UX Designer  
Team Project . June-Aug 2022
We all love eating out. But Fats, Oils and Grease (FOG) from restaurants and food trucks can cause backups and overflows in city sewer pipelines, resulting in property damage and public health issues.
The City of Lansing's Public Service Department is looking to reduce the amount of fats, oils, and grease pollution in the city sewers in a way that is sustainable, and can cut unnecessary costs and labor from the city. 
What a weird challenge? What a unique opportunity! Despite how complicated the problem was, we developed a FOG resolution program, which included various recommendations, prototypes of systems and tools, and next steps for the City of Lansing.
I worked on this project as a UX designer and project lead, along with a team of four (2 UX designers, 2 data analysts). We worked with the Public Service Department in the City of Lansing for 2 months in summer 2022. 
1. Comparative analysis, User Interviews, and Surveys
We dove into researching the current methods of the City of Lansing and nearby townships. Our 12 comparative products include 8 direct competitors, 3 partial competitors, and 1 parallel competitor. We evaluated their strengths, weaknesses, and opportunities on their program presentation and similar ordinances.
​​​​​​​
Being on-site gave us the opportunity to meet with many stakeholders who worked on the front line dealing with FOG issues. We conducted 10 interviews to learn about the city's problems and possible opportunities to tackle FOG issues. We also went on the field to see trouble spots and the Waste Water Treatment Plant, to see how city staff deal with FOG in their daily work. 
​​​​​​​
Our 1st big Challenge: Where are our users?
Food establishment owners are busy. The challenge was that our users had a low interest in FOG problems. We started reaching out to recruiting restaurant and food truck owners in Lansing early in the process through restaurant associations, neighborhood organizations, direct mailing users, and some personal contact. But responses were not ideal. We decided to change our strategy and directly went to restaurants, festivals, and farmers' markets in person, using short and informal conversations to learn more about our users and see them in their working environment. 
Facilitating a survey also helped us learn more about the difficulties business owners had. We went into the ideation and prototyping process with the information we gathered.
We used an affinity wall to analyze our notes and findings. Some of the key findings we've learned through research were:
• Ordinances don't specify requirements on how grease traps should be maintained, making it difficult to hold "bad actors" accountable
• Many restaurant owners do not know the best FOG management practices, as city information is not easily accessible    
• Lack of public recycling or grease disposal points in the city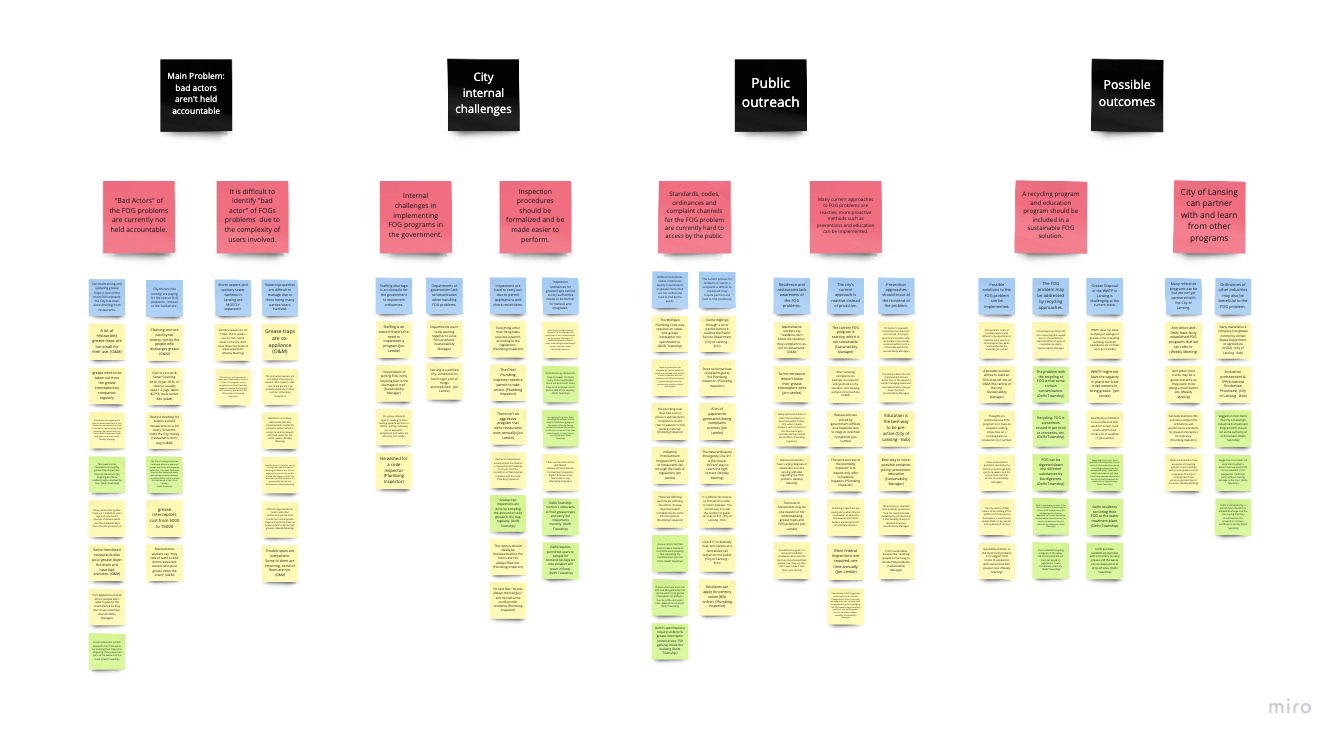 3. Ideation: 
We chose 3 how-might-we questions and did a two-round ideation session for each question. The questions are listed below:

     • How might we hold "bad actors" accountable?
     • How might we make FOG restaurant owners' priority?
     • How might we make FOG management easier for residents / restaurants / food trucks?​​​​​​​
After brainstorming and voting on our ideas, we had clusters of 5 themes, which became the backbone of our two prototypes. 
​​​​​​​
     1. A FOG management tool for businesses
     2. Information for restaurants
     3. Communication and outreach
     4. Education and Marketing
     5. Creative approaches.
To tackle the problem from an information perspective, we put together a FOG resolution program, which included four main aspects: 
     1.
Ordinances
, and how might they be more specific
     2.
FOG recycling
, providing recycling options and information to the public
     3.
Public outreach
, educating the public on FOG issues
     4.
Information access
, website representation, and tools for people to use
We created two distinct project prototypes for the needs of our different users. One is a FOG management tool for restaurant / food truck owners to log and keep track of their grease facilities, the other is a campaign website with FOG information for the general public.
​​​​​​​​​​​​​​
The project was challenging yet rewarding in seeing how far the team came and how much I grew professionally. I gained experience as a UX designer in a workplace that is unfamiliar with UX and learned about my strengths and weaknesses in teamwork and project management. This experience was unique and also gave me confidence in knowing how UX can be used in solving real-world problems and creating an impact in our community!